.ABOUT
Al Noor Island
Welcome to a place where wild grasses grow and glittering meadows light the way along seaside boardwalks. This is Al Noor Island — where children learn of the wonders of nature inside Butterfly House and book lovers relax at Literature Pavilion. Home to awe-inspiring award-winning architecture, technicolour art installations, giant cacti, bayside dining, children's playgrounds and dancing light shows; we look forward to showing you all that Al Noor Island has to offer.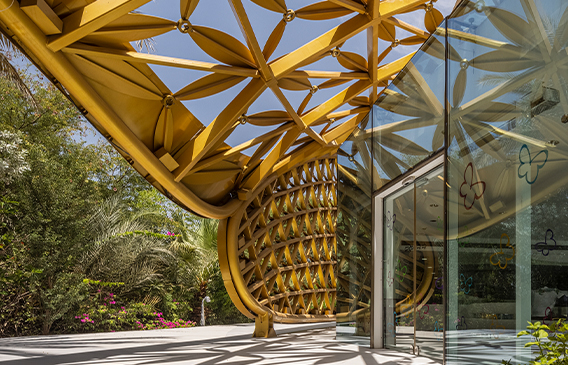 Awards & Achievements
Al Noor Island is an award winning destination that has captured the imaginations of international architecture and design committees since its opening in 2015. In 2016, the Island received a number of awards, first being named the "Best Leisure Architecture in Africa and Arabia" by the International Property Awards. The Island's stunning Butterfly House was awarded the internationally coveted "WAN Metal in Architecture Award". In the same year, the Iconic Awards — one of the largest independent international awards in architecture and design — recognised Al Noor Island with the "Best Architectural Design". The Island also received recognition at the Arabian Property Awards and ran as a finalist in the WAF 2016 Awards. The Island went on to secure the "IF Design Award" and the "Gold A' Design Award" in 2017, as well as the "Excellent Communications Design" in the Urban Space and Infrastructure category by the prestigious "German Design Award" in 2018.